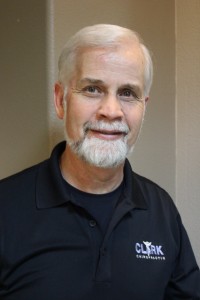 Dr. Clark was born and raised in Stockton, California. He was introduced to chiropractic in his junior year of high school when he severely injured his back playing basketball. Although skeptical of the chiropractic profession, Dr. Clark underwent treatment and experienced great results; he was able to continue playing a sport he loved.
Dr. Clark graduated from Palmer College of Chiropractic in December of 1984, in Davenport, Iowa. He performed his undergraduate work at Harding University, a Christian college located in Searcy, Arkansas, and received his Chiropractic Orthopedics certification from the Los Angeles College of Chiropractic in 1996. Dr. Clark is also a Qualified Medical Evaluator in Chiropractic for the State of California.
Ever since his first experience with chiropractic, Dr. Clark focused on building a lifetime commitment to helping people, using chiropractic healing methods. Dr. Clark opened his first practice as a solo-practitioner in Fresno, California on October 1, 1985. Prior to having his own practice, he worked in a group practice, Chiropractic Orthopedic Group of Fresno.
About Dr. Sutton
Dr. Sutton graduated from Loyola Marymount University in 1977 and from Western States Chiropractic College in 1985. He has been in private practice since 1985 and has completed a 400-hour post-graduate course in orthopedics. He has had a varied experience as a chiropractor, including working with professional sports organizations and teaching. He has served on various committees and boards, including the Chiropractic Quality Assurance Commission for the Department of Health, and is frequently asked to act as an expert in legal cases involving chiropractic care. He has served on the Board of Trustees at the University of Western States.
Philosophy: Dr. Sutton utilizes evidence-based treatment approaches and provides ethical and thoughtful care to his patients.
Favorite sport: Swimming
Hobbies and Interests: Dr. Sutton enjoys traveling with his wife, fishing, hiking, visiting his son in Arizona, and visiting art galleries and museums.